Hi all! I have been out of the Ranger vehicle group for about 2 years. I used to have a 93 Ranger on 32's but sold it when we were expecting our son. Now he's 2 and it was time for daddy to get a toy again

Enter DA BRONCO DEUCE 1987 B2 chop top, 2.9l, destroyed a4ld, 3" body lift etc. We drove across the state to get this bad boy...thank you Craig's list
Then came the mods.
*First came the trans. My buddy and I (both dealership techs) put together a a4ld/5r55e(01) frankentrans. It is a4 from the center support rear and 5r foreward (including the bell housing and torque converter). We had to use a 4.0 sohc auto starter.
*Took off the front bumper and welded a hitch in the frame.
*Added a temp rear rollbar/lightbar.
*Replaced the destroyed rear pinion bearing. A temp fix to get it going.
*Ripped a lot of extra crap off the engine. Lightweight race rig

*BFG all terrain ko's (235's) traded labor on some Dakota ball joints.
*Some killer rear chains.
Then we loaded up and ran it at the Dog Party. This thing rocked! I have under $600 in it and it went everywhere!!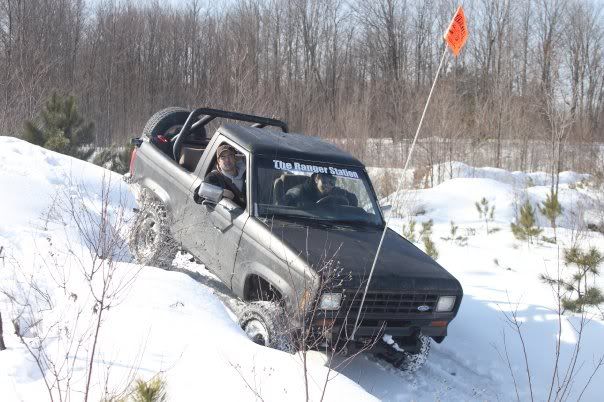 It has a long way to go and the 2.9 is sounding pretty rough. I'm thinking it almost 4.0 time. We know it bolts up to the SOHC trans! It also needs a whole lot of protection for its passengers. I'm fairly sure it WILL crush like a tuna can WHEN I finally roll it.
So that's my story. I was happy to find a place that was geared toward BII owners. P.S. The sticker was already on there when I bought it...it will be getting a "Deuce Crew" banner soon