Here is the link to all of the photos.
http://photobucket.com/albums/v469/tonysmudbog/2006/March%2025th%20Cowboys%20Mud%20Run/
I didnt get an exact count on trucks but for being cold, the first run of season, and a low budget operation, there was a huge spectating crowd. I think there where 13 or 14 trucks total that completed and a bunch more that tried the holes a couple times during the practice runs but didint compete.
Classes where as follows.
A Class 0-35 inch tires
B Class 0-44 inch tires
C Class Open
D Class Mud wrestling
They gave trophies for the top two in each class
Wanderer (explorer) and I both competed in the A class.
For this event since I no longer have my BII, I took the g/f's, after i stuffed my 33 TRXUS (that suck) onto it. its an 84 with 2.8 and c5 with 4.10's and welded rear.
My buddy took his 92 explorer which has the 4.0, and crappy a4ld, 6 inch skyjacket lift, 35 BFG m/t's (that also suck) aussie locker frotn and factory l/s with extra clutch in the rear.
I ran 3rd. after watching the 1st and 2nd trucks pull up to the line with tires packed with mud, I decided to make a run around the grassy field to clean the tires out, and passed the first two distances, sitting me in first palce. Wanderer ran 4th and made it past my measurment I cant remember how far he beat me by but it was under 10feet.... I claimed it was only 2feet but he said I was smoking crack. :wiggle to
After people cuaght on to what I did, several others through out the day went into the field to clean thier tires as well.
The last two trucks in the event beat us out of our positions and took the trophies.
Leaving the class as follows"
1. Samurai (hardtop with grey doors)
2. Jeep (the only one there)
3. Wanderer (big ugly exploder)
4. Me. (badass looking BII that belongs to the g/f)
5. Tubed out red samurai
6. 79 ford (with the owners son driving)
7. 79 ford (with the owner driving)
8. Nissan pathfinder
9. extend cap toyota
The remaining classes I cant remember what order the ran or who wont which place but, I know the rig with paddle tires, both chevy's and the samurai that one the a class all recieved trophies.
As for mud wrestling I missed it, so i'm not sure what happened.
I have to give props to Cowboy for the first run of the year. Pit has really gotten bad. Only one truck mad it through during practice and that was the rig with paddle tires and nitrious. During the competition that one didnt even make it through. This was some very thick crap.
The food was in good taste as I tried one of everything they had to offer, and spent $50 total up there.
the entry fee was only $5 so that will tell you how much I ate....
I would like to add all proceeds go back towards the next months run, and the bonfire at the end of the year. All left overs go to charity. I find the fact that Cowboy makes absolutely no money off of these events, and donates what he does have left over awesome, not to mention the doantion is helping give us 4x4ers a better name.
If Cowboy keeps up the work i'm sure his place will be getting alot more trucks/spectators as the year progresses. It was definatly worth the work of cramming my 33's on to the g/f's BII
The only improvment I see as a must is a loud speaker. It was hard to figure out was was going on unless you stod around cowboy most of the day. Even something as simple as a PA system running from a CB would be better than nothing. I have a cheapo karokee machine I may doante to them to use until they get something better.
Practice runs for Wanderer and I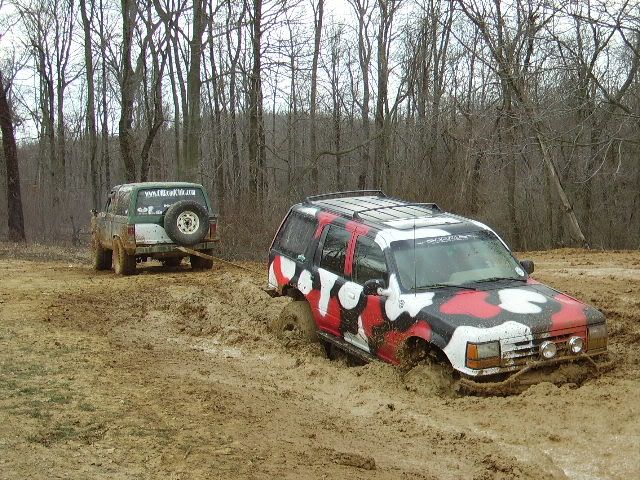 Yeah, we didnt go very far.
Our comp runs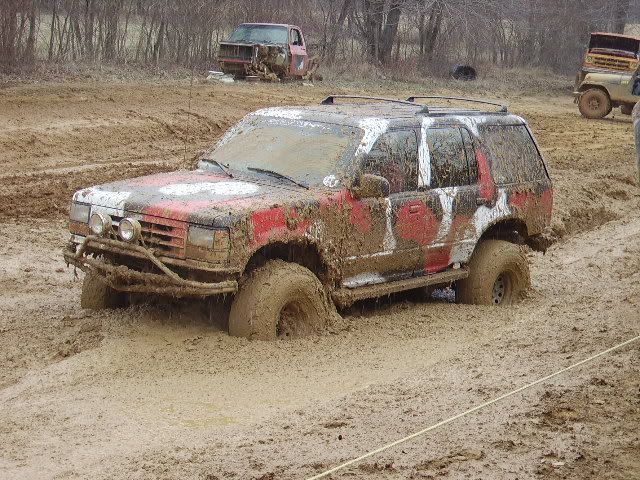 We still didnt get very far but niether did anyone else
Stuff sure was thick.... thems 37's