---
How long have you owned your Bronco II?
I've been wheeling mine for about 12 years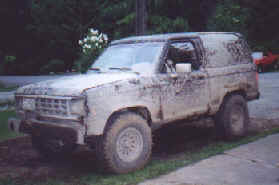 ---
Posts: 63
Joined: Tue Nov 23, 2004 12:06 am
Location: Bellingham, WA
Contact:
wow Matt, at the time that I am writing this, you and I are each worth 50%! I feel so important!!

-check your PMs
---
Looks like close to 10 for me....

And no photos :(
Maybe thats a good thing, I got it from my Mom, with whitewalls, and running boards

Last edited by
Bob
on Sat Mar 12, 2005 7:33 am, edited 1 time in total.
---
---
I bought mine (89) off my dad (who bought it off the ford lot) in 1991. Its been free of payment since 1994... I wont sell it....
---
Bought my "88 in Jan of 90, had 68k miles on it, when I tore it down to do the solid axle last year it had 300kmiles on it, transfer case is only moving part that is now original, and it has never been apart
88 BII,4.0, 9"& D44/4.88 locked. 1350/1354 doubles
92 XJ-wifes toy
---
I got my 89 in 2002 from my wife's uncle and I got it FREE! He got it brand spankin new in 89, so I am only the second owner. The good thing for me is I know the history and how well it has been taken care of. I will never get rid of this until it absolutely cannot go anymore, which should be a long, long time from now.
---
when I think about it I have had mine for around 4-5 years. but I owned an 84 for about 2 years before the 86 I have now......oh and the only thing left of mine is whats left of the body.

---
---
I retired my 85' ranger after 7 years, retired the BII after 3 years. Have had the 85' ranger in garage for 2 years or so. And plan on using for a while hopefully with the fullsize running gear....

EBSteve just likes to watch me break things.:-)
420HP and 775Ft lbs Now it is time to break things.
---
Posts: 588
Joined: Sun Apr 18, 2004 10:41 pm
Location: San Juan Bautista, CA
Contact:
well if you count the time i had two bronco II it would be 7 years, but i have had my blue one for 6
---
i have had current BII since july of last year but it is my fourth BII in the last 9 years yep i am kinda hard on em and i suck as a body man so just transfer the good parts scrap the rest yeah i know i need help
Its a Bronco II thing............EVEN WE DONT UNDERSTAND
85 bronc modded up a bit
---